i'm not sure if anyone has already posted this here, but i stumbled upon this in
dbsg for dbsg, and i found a kat-tun theme too!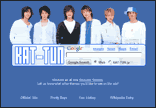 there are a few other Johnny's groups, and a bunch of other artists in general also.

AwesomeStart.com - Get a free customizable homepage with your own theme and links. Go set up yours!